I've seen a few amazing races from Jenson - Brazil 2009, when he became world champion comes to mind - but what he did today trumps everything.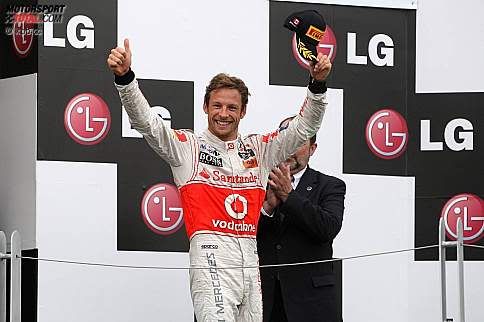 Jenson was hit twice, once by his own team mate, once by Alonso, he got a drive-through penalty, he was in the pits 6 times overall. Once due to a puncture, after the collision with Alonso. He came back on the track 22nd, LAST. And then he started fighting his way to the front, overtaking one car after another, until he was 4th again, overlapping other cars he had just overtaken a few laps earlier, and ready to go for the podium.
When Jenson asked what tyres Vettel was on, I realised that he was actually going for victory, but that still seemed highly optimistic. Honestly, considering where he came from, a podium finish sounded like a dream come true. Then he overtook Mark, and right after that Schumacher like it was nothing.
And with just a few laps left he caught up on Vettel in a way that made it crystal clear that he wanted that victory. One small mistake by Vettel and he led the race in the last lap.
I actually screamed. I hope I didn't wake the neighbours. This was, without doubt, the race of a true champion. I'm so unbelievably proud of Jenson.
Now he's second in the championship, and yes, it's still a 60 point gap, but damn, after today I believe that he can win this if he really, really wants to.
Such a perfect victory for Jenson, and 3rd for Mark? That two hours I waited for the restart where totally worth it.